March 31st, 2014 | Shonali Burke |
7 Comments
Good morning from beautiful Baghdad by the Bay aka San Francisco! I'm here to speak at The Hub Convene along with Heidi Sullivan of Cision (disclosure: client); we're presenting on "Content Marketing Metrics That Matter." If you're here, please find me and say "hello!"
Image: Julie Rybarczyk via Flickr, CC 2.0
No matter our line of work, we all have one common goal: to succeed. No matter how much we hear it's important to fail (which it is), and failure makes us stronger (hopefully), success is just much nicer. Friday I spoke at the Convergence in Communications Conference, and Evan Burfield of 1776 got a big laugh when he said, "Let's face it, failure sucks."
So this week's roundup features seven posts from around the web that focus on success.
Filed under
Resources, Shonali Burke, Weekly Roundup
| Tags:
negativity online
,
social media marketing
,
success
|
Comments (7)
March 28th, 2014 | Shonali Burke |
1 Comment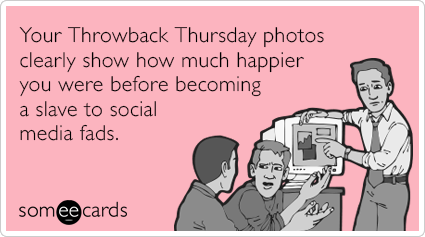 She gets up at 5:30 a.m., or maybe 6. He R&S' (rises and shines) at 7 a.m. (or so).
Time enough – just barely enough, and some days not even that – for the two of them to hug, kiss, and chat a bit while one sips tea and the other Diet Coke, before the frenetic dance of get-ready-to-go-to-work-and-don't-forget-your-breakfast/lunch! begins.
The day takes over. Work takes over. Life takes over. For the entire day, figure nine-plus hours, full of emails (many of which are "reply all") and conference calls ("OMG! I didn't lose you!") and frenetic calendar adjustments for meetings that are probably completely unnecessary but seem vital… at least, at that moment.
On a good day she might get a walk in; he might make it to the gym (and two days in a row? W00t!). And if they get home in time to eat dinner together – if there isn't a happy hour or networking event to attend, that is – they offer silent thanks for their microwave, the most frequently used appliance in their state-of-the-art kitchen.
Filed under
Marketing, Shonali Burke, Social Media
| Tags:
engaging in social media
,
social media marketing
|
Comment (1)
March 24th, 2014 | Shonali Burke |
0 Comments
Happy Monday! Did you have a good weekend?
Image: Maria Ly via Flickr, CC 2.0
If it isn't "everything," trust pretty important when it comes to building and maintaining relationships (both business and personal). It is often difficult to win, and so easy to lose. This week's roundup focuses on trust.
1. New Pew Data Shows Millennials Are Non-Traditional, Poor, Unmarried, Not White and Don't Trust You
Why: In this guest post for Shelly Kramer's blog, Andrea Cook shares highlights from a new Pew Research Center study on Millennials. And guess what? They're not that trusting.
2. Marketing For Small Businesses: There Is Strength In Numbers
Filed under
Marketing, Resources, Shonali Burke, Weekly Roundup
| Tags:
building business relationships
,
Influencer marketing
,
trust
|
Comment (0)